News
Weihua & Siemens (China) Sign Partnership Agreement
Views: 175 Update date: Jul 15,2017
On 22 November, 2016, the signing ceremony of Strategic Partnership Agreement between Weihua and Siemens (China) was held at Weihua Group. The agreement aimed to set up an innovation platform of intelligent lifting control system. Weihua Group president Yu Youfei and Siemens Vice president& General Manager of Central China Nong Keqiang signed the agreement on behalf of each side. During the meeting, both sides conducted technical exchanges and communications, then discussed in depth about cooperating in full-automatic port and railway freight center and reached a broad consensus.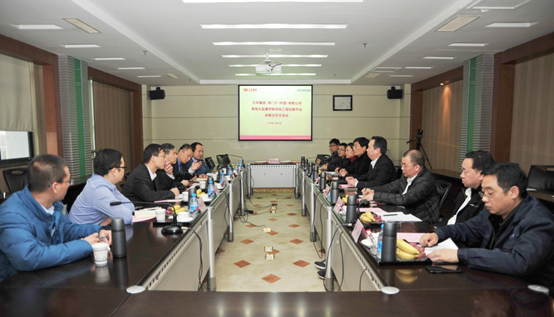 At the ceremony, Mr. Yu expressed that Weihua would accelerate the research and development of strategic technologies and intelligent products basing on the new normal of China's economic development and Made in China 2025 overall strategy. In recent years, Weihua took very seriously about the cooperation with universities and research institutes and got lots of achievements, but still lacked in intelligent technologies. Siemens is leading in the industry about intelligent and automatic technologies. There was a great potential for cooperation between Weihua and Siemens, and a great benefit for both side. Mr. Yu hoped to establish a long-term substantive cooperation relationship with Siemens on advanced electric technologies, and both would carry out an all-around cooperation in technologies research, products development, industries expansion and new technologies training in the near future.
The Vice-president of Weihua Machinery Research Institute Zhou Qiang showed the guests Weihua current technical research and development, projects and achievements. Then he briefly stated the lightweight and intelligent development direction, and the projects such as: software platform basing on Siemens TIA Portal, advanced Simocrane Platform, Sinamics Drive System Platform and Intelligent Lifting Control Platform. These projects would fully improve the quality and technology of Weihua cranes.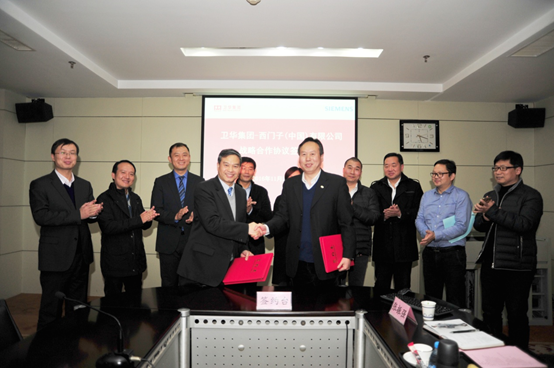 Mr. Nong very appreciated the achievements of Weihua in crane industry, and very agreed with the research and development scheme of Weihua. He expressed the confidence of bilateral development in full-automatic port and full-automatic railway freight center. Also, he said Siemens would cooperate with Weihua more deeply in these areas, and Siemens would utilize the global influence and rich resources to bring more international enterprises to cooperate with Weihua.
Weihua Group Chief Engineer Wu Jun, Zhongyi Material Company Vice General Manager Yu Hong, Weihua Research Institute and some Weihua Technical Department staffs attended the meeting and signing ceremony.